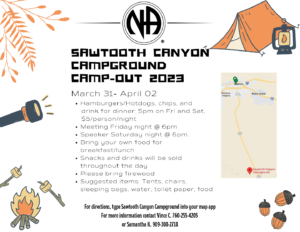 This is a no cost, dry campground.     The Sawtooth Canyon campground has 13 campsites, which include fire pits, barbeque grills, picnic tables, and a vault toilet. Camping is only allowed in designated campsites, and all sites are available on a first-come, first-serve basis. Reservations are not required and there are no fees. Fires can only be built in facility fire rings or fire pits, and firewood containing nails, screws, or metal is prohibited. Quiet hours are from 10 p.m. to 8 a.m., and camping is limited to 14 days within a 28-day period.
Sawtooth Canyon Campground, also known as "New Jack City," is located about three miles west of California Highway 247 and 20 miles south of Barstow. New Jack City is its popular name and originates from the rock climbing community who use the area. The historic name for the canyon is "Traer Agua" which means "bring water".
The name "Sawtooth" is derived from the resemblance between the ridge line and the outline of a saw blade. Sawtooth Canyon offers many recreational activities including camping, wildlife viewing, hunting, rock climbing, and picnicking.
Download the Sawtooth Canyon Information Guide